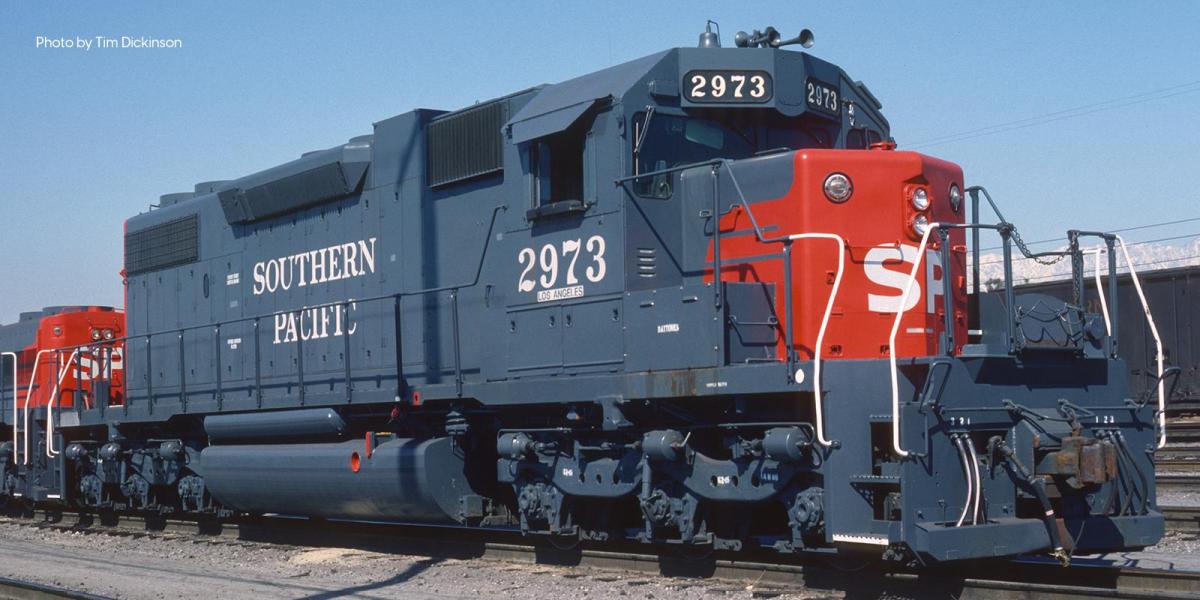 Time to Model: The Story of Espee's SD38-2s
An Article by Paul Ellis
Dedicated in the summer of 1973, Southern Pacific's massive West Colton classification and hump yard (technically located in Bloomington, CA) was a marvel of its day. Located approximately 45 miles east of Downtown Los Angeles, the 560-acre facility is located along SP's busy "Sunset Route" into Southern California, and at the junction where their "Palmdale Cutoff" line through Cajon and points compass north joined the Sunset. All of these factors created a very, very busy classification yard where trains were built and broken up from all over the SP system, and would present some unique operating requirements.
For working the hump and various other switching jobs in the yard, SP turned to longtime supplier EMD for knock-down, drag-out muscle to handle long cuts of cars: the SD38-2. For handling duties at West Colton, SP felt a modest batch of six units, numbered SP 2971-2976, would be sufficient for serving the yard. Built in April of 1973, the SD38-2s were chosen for their medium-horsepower (HP), high-traction qualities, which SP enhanced even further by having them ballasted to 416,000lbs (2nd heaviest units on the system, eclipsed only by their SD39s), and simplified maintenance and improved fuel economy thanks to their non-turbocharged, 16-645 prime movers. They were also wired to operate with six-axle slugs, and were unique in having slug electrical conduits built into a step-up on their rear decks, with end handrails raised to match, and extra electrical and MU connections on the end pilots. The three slugs, rebuilt from retired SP ALCO six-axle "Century" series units and mated to the SD38-2s, created a 3-unit, 18-axle, 4,000hp "super switcher" set.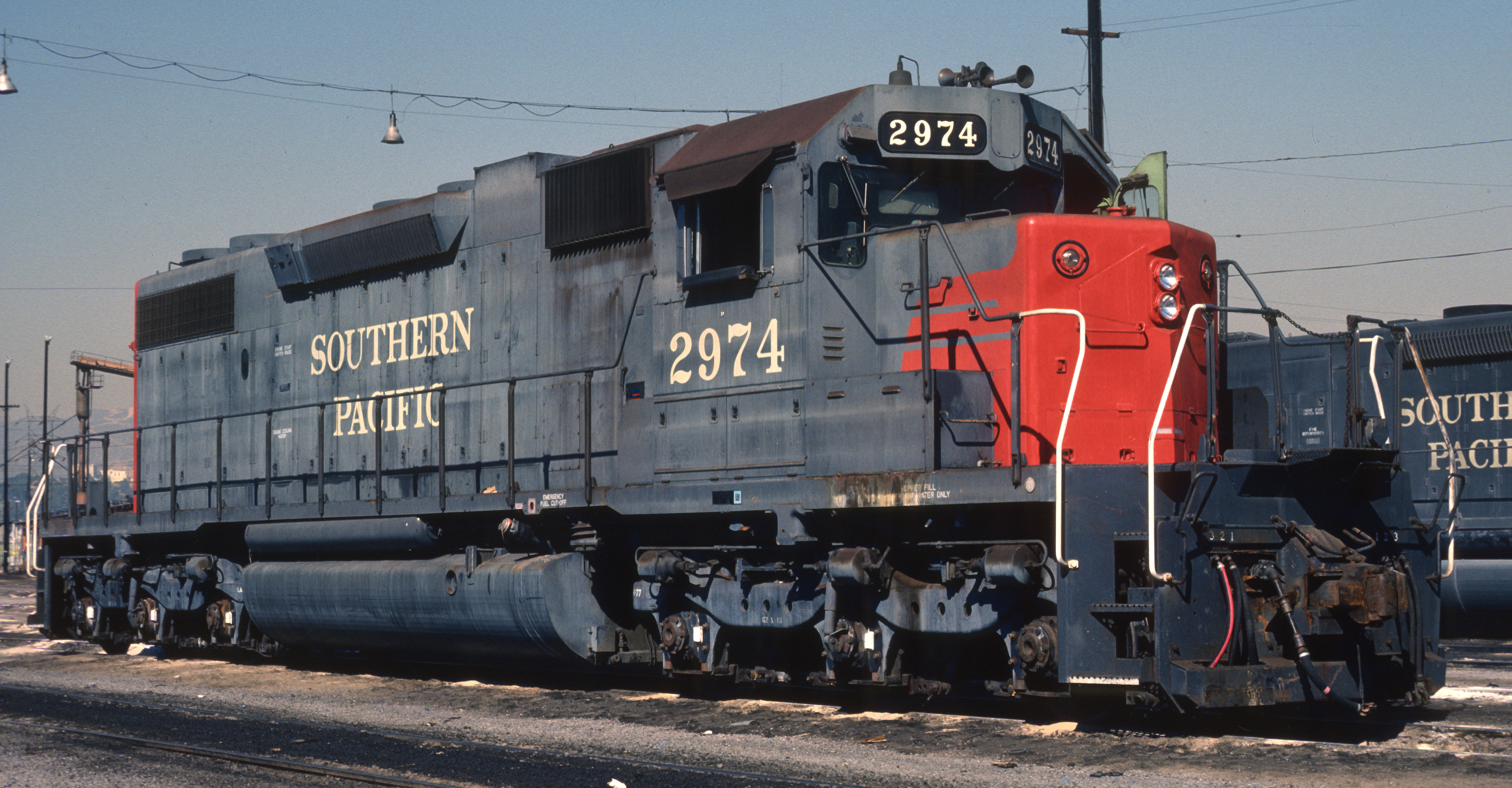 Owing to their status as switch engines, SP chose not to equip them with all of the usual options they preferred at the time, being the only units bought in that timeframe that came without the distinctive Pyle-National "Gyralite" signal light package. Instead, they featured EMD's standard vertical-mount, nose-mounted dual sealed beam headlight on the front end, and standard dual sealed-beam headlights on the rear. Standard tri-color classification lights on both ends rounded out the lighting on the units, and seeing as they seldom strayed very far from the yard … occasionally leaving to go to SP's LA Taylor Yard locomotive facility for heavy maintenance, post-maintenance shakedown runs on heavy LA-basin yard transfers, nicknamed "Haulers", or interchange transfer runs to nearby Santa Fe and UP yards … the SD38-2s didn't need the usual array of signal lights SP was famous for.
Rounding out the EMD options checklist was a 4,000 gallon fuel tank (which provided even more weight for tractive effort when they were topped off), engineer's side "L-Window" front windshield for improved visibility, "split" equipment access doors under the cab, extra cab vents to help keep the cab a bit more comfortable during the hot and dry SoCal summers (SP didn't adopt cab A/C on new units until 1974), Nathan AirChime P3 horn, tripod-mounted cab roof bell, an extended walkway duct that concealed a storage box for misc. supplies (hose wrench, spare trainline hoses, knuckles, etc.), triple-clasp brake HT-C trucks with a pair of cast iron brake shoes per wheel for greater stopping power, and Pacesetter slow-speed creep controls for steady shoving speeds on the West Colton hump.
The SP SD38-2s quickly settled into a routine at West Colton, known as reliable workhorses that could "pull the paint off a wall." Their ALCO slugs were retired by 1984, and in their place SP typically MU'ed the pairs of SD38-2s with rebuilt SD35s, SD7Rs, or SD9Es to ensure they had enough "oomph" to keep train-sized cuts of cars moving steadily. About the only physical changes made to the SD38-2s in SP service were the deletion of their as-delivered footboards after they were outlawed in 1975, having their front "L" windows modified to a 2-piece design, and modification of their as-built straight uncoupling levers to a "loop" style, to allow a trainman to operate them while standing on their corner steps. Ironically, they also seemed to get their paint refreshed relatively frequently; while they weren't subjected to the long tunnels that would quickly begrime other classes of SP power, their home base at West Colton subjected them to some of the worst air quality in the region, which quickly degraded their paint, getting them impromptu paint jobs or touch-ups when in the shop for heavy maintenance.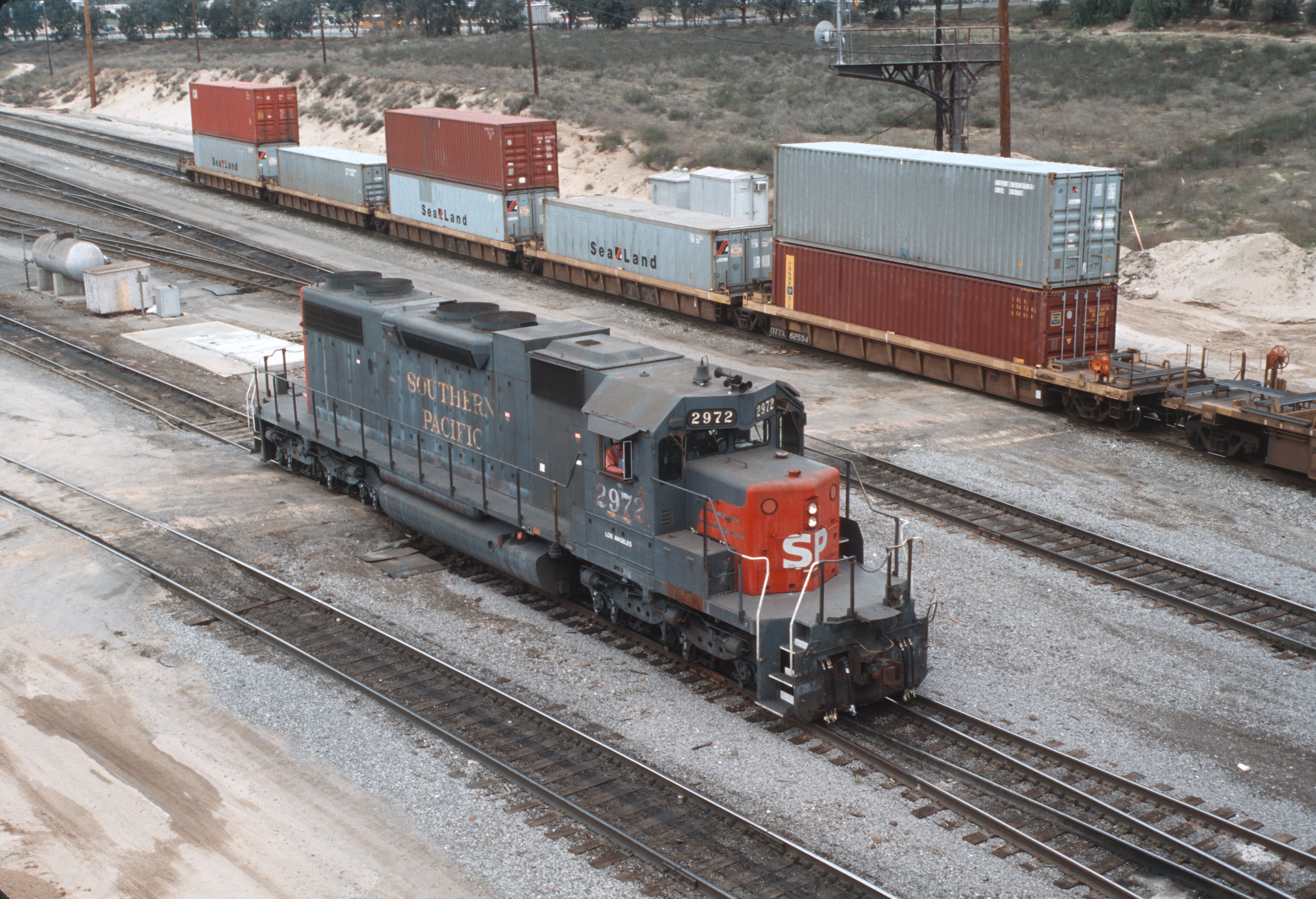 I spoke with a retired Southern Pacific/Union Pacific Railroad Locomotive Engineer, Tim Dickinson, who was hired by SP in 1977, about his memories of running the SD38-2s at West Colton. "The SD38-2s were great locomotives to operate. They were powerful, excellent pulling units. They had a deep, throaty sound from the 2,000 hp 16-645E with roots blown. However, these units really excelled in dynamic braking. They had super dynamics. I'm really glad that I got a chance to operate these units with the slugs," Dickinson said in a recent interview.
He continued: "Not long after my time as the fireman on that daytime hump job, the SP slugs were withdrawn from service, and eventually retired and scrapped. But the SP's SD38-2s soldiered on. With the demise of the slugs, the SP started using old SD35/SD35E units as replacements for the slugs, followed by the use of rebuilt SD7Rs. So you could have an SD38-2/SD35/SD38-2 combo on the hump or an SD38-2/SD7R/SD38-2 combo. The SD35s were pretty worthless on the hump, especially in dynamic braking. But you could always count on the SD38-2s to get the job done!"
The SP SD38-2s became celebrities of sorts to local railfans owing to their rarity, as well as obscurity, since their assignments usually had them buried deep inside of West Colton yard, only making them photographable (without being an employee or otherwise trespassing) when they occasionally strayed from the hump or bowl tracks. When they did, however, they could put on an impressive show, blowing out billowing white carbon clouds when engineers notched them up and "cleared their throats" when free from the confines of the yard. My first encounter with an SP SD38-2 was at the at-grade crossing of Santa Fe's mainline to the east of the yard when I and one of my railfan friends watched a pair of SD38-2s drag an impressive cut of cars out of the yard across the Colton Crossing diamond. Their barking exhaust was accompanied by a carbon cloud that could obscure a battleship, a sight and sound that would remain one of my earliest and fondest railfan memories. Pretty impressive stuff for a teenage railfan set loose with a new driver's license and first set of wheels!
Video showing a set of SD38-2s working a transfer job outside of the yard:
The SP SD38-2s worked at West Colton for SP until the end, calling the yard their home for their entire SP careers. Shortly after the Union Pacific takeover of SP in 1996, the SD38-2s would leave the yard for trips to UP's Jenks Shops in Arkansas for overhauls and fresh coats of UP paint, though they would come back to their old haunt, continuing to shove cars over the West Colton hump. However, all good things must come to an end, and in the years following the merger, the former SP SD38-2s would see themselves leave the yard, going to new assignments as dictated by UP's needs. Somewhat ironically, as of this writing, the ex-SP SD38-2s have themselves been rebuilt into slugs.
In the HO scale world, the SP SD38-2s can live on, thanks to the new ScaleTrains model. It's arguably the most accurate SP SD38-2 model available, featuring the unparalleled performance and detail ScaleTrains is known for, as well as road-specific detailing. The array of SP cab vents is present, along with the cab roof bell, extended-range dynamic brakes, "chickenwire" radiator intake grills, split cab sub-base doors, 4,000-gallon fuel tank, triple-clasp HT-C trucks, extended walkway duct with toolbox, rear platform slug electrical conduits, tall rear handrails, and slug electrical connections on the rear pilot.
This initial release represents the SP SD38-2s as they would have appeared by the mid/late 1980s and into the 1990s (as-built versions will come in future runs), with modified "loop" style uncoupling levers, deleted footboards, "modified" engineer's side L-Window, deleted class lights on 2972 and 2975, retrofitted Prime Stratolite PM-8911 beacon on 2975 (apparently the only SD38-2 equipped, late in its SP career) and minor paint and lettering differences from unit to unit, thanks to their visits to the paint booth over the years. These new models would look great on any layout working in pairs, with kitbashed ALCO slugs, or with SD7/9 rebuilds spliced in between.