SCALETRAINS ROAD TRIP
We're sure these words bring back fond memories of family vacations, fun destinations, and kids arguing in the back seat. "Are we there yet?"
We are embarking on the adventure of a lifetime that will take us to all 50 states over the next couple of years. Along the way, we want to meet you and have you play a role in our Road Trip story. Click-on the Road Trip video to learn more.
BE A PART OF THE JOURNEY
Shortly after unveiling our company in 2015, the Chattanooga Modular Modelers invited us to share our story with several clubs from Tennessee and Georgia. This was the beginning of what we now know as a "Meet & Greet."
During a Meet & Greet, we display our latest products and encourage folks to pick-up the models for a closer look. We spend about an hour sharing our company story, how model trains are made, and answering every question asked about our company and favorite hobby. We also have gift bags and giveaways, so no one leaves empty handed. If possible, we run trains on the club layout too.
Normally, Meet & Greets are held in cities where we're exhibiting at a train show. We've held dozens at local clubs and they're a lot of fun. We always enjoy connecting with fellow modelers in a casual environment.
More than a year ago, we began talking about how to reach people in areas that do not have a national level or large regional train show. With more than a year of planning, the idea evolved into also exhibiting at regional train shows; attending special events at railroad museums; setting-up at full-scale railroad festivals; hosting train-watching days at railfan hotspots; and more. We then asked special guests to join us along the way and several partners (see below) to share the news. The Road Trip was born.
We recently acquired a truck and RV so we can travel everywhere and set-up anywhere. This will allow us to visit all 50 states over the next couple of years. If everything comes together, we'll meet our friends in Canada too.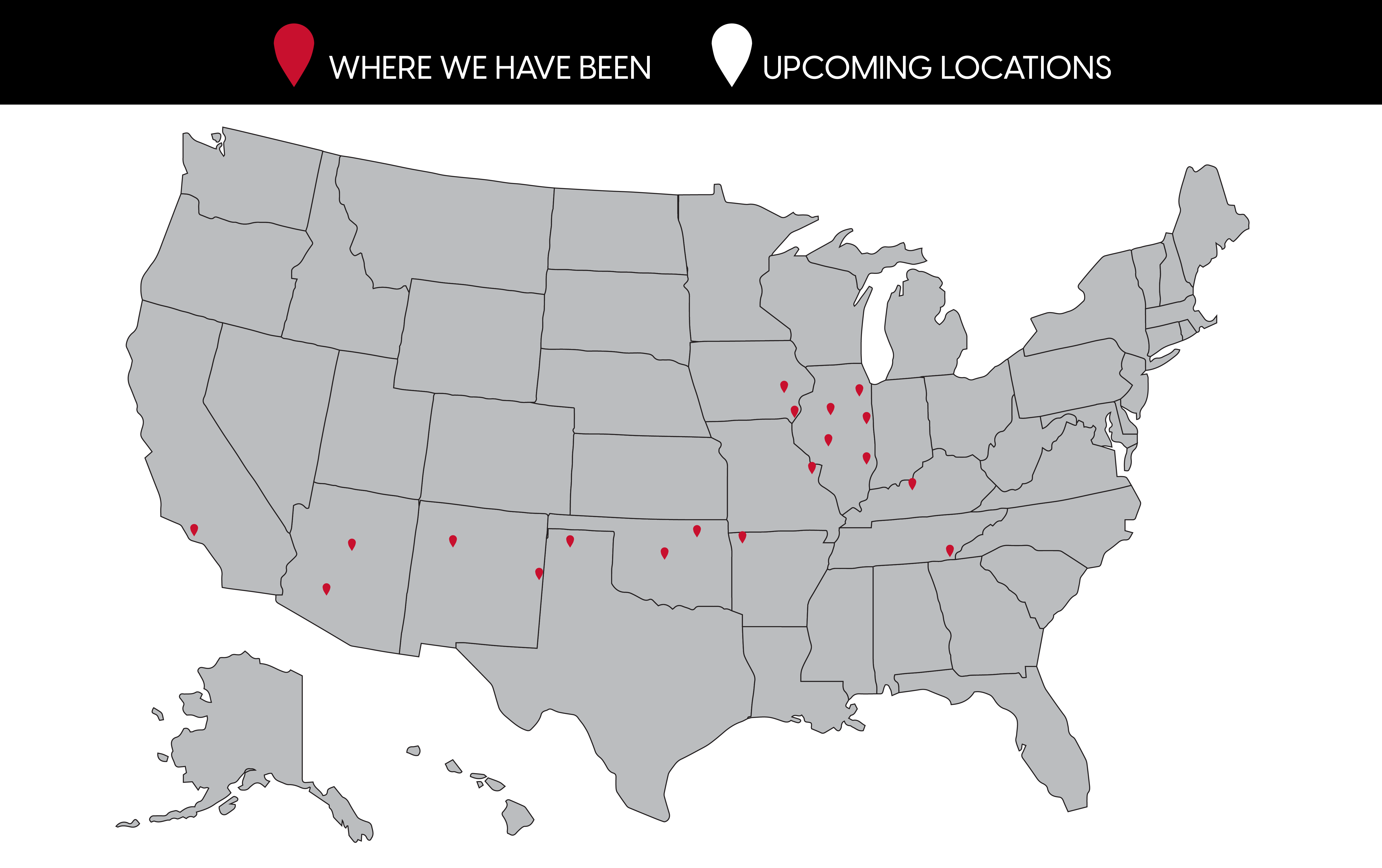 ---
Winter 2021/2022 — Southern States
Spring 2022 — Midwest
Summer 2022 — Upper Plains; Northern Rockies; and Pacific Northwest
Fall 2022 — New England
Winter 2022/2023 — Texas; Louisiana; Hawaii
Spring 2023 — Mid-Atlantic States
Summer 2023 — Middle Plains; Central Rockies; Central/Northern California; Alaska
*Due to unforeseen circumstances, dates, times, and locations are subject to change.
Danville Junction Chapter
Rossville, Illinois
St. Charles Model Railroad Club
St. Charles, Missouri
Crawford County Model Railroad Club
Oblong, Illinois
Springfield Model Railroad Club
Springfield, Illinois
K&I Model Railroad Club and Division 8
Louisville, Kentucky
River City Model Railroad Club
Pekin, Illinois
River and Rail Weekend
Ft. Madison, Iowa
Hawkeye Model Railroad Club
Coralville, Iowa
Will County Model Railroad Association
Joliet, Illinois
Naptown & White River Model Railroad Club
Indianapolis, Indiana
Tennessee Valley Railroad Museum
Chattanooga, Tennessee
Sugar Creek Model Railroad Society
Springdale, Arkansas
Green Country Model Railroad Club
Tulsa, Oklahoma
Oklahoma Model Railroad Association & Museum
Oklahoma City, Oklahoma
Amarillo Railroad Museum
Amarillo, Texas
Clovis Area Train Society (CATS)
Clovis, New Mexico
New Mexico Rail Runners
Albuquerque, New Mexico
Flagstaff Model Railroad Club
Flagstaff, Arizona
Arizona Model Railroading Society
Glendale, Arizona
California Southern Model Railroad Club
Norwalk, California