SCALETRAINS ROAD TRIP
"Are we there yet?"
We're sure these words bring back fond memories of family vacations, fun destinations, and kids arguing in the back seat.
As we continue our journey to visit all 50 states over the next several years, we want to meet you and have you play a role in our ScaleTrains Road Trip™ story.
BE A PART OF THE JOURNEY
Shortly after unveiling our company in 2015, the Chattanooga Modular Modelers invited us to share our story with several clubs from Tennessee and Georgia. This was the beginning of what we now know as a "Meet & Greet."
During a Meet & Greet, we display our latest products and encourage folks to pick-up the models for a closer look. We spend about an hour sharing our company story, how model trains are made, and answering every question asked about our company and favorite hobby. We also have gift bags and giveaways, so no one leaves empty handed. If time allows, we run trains on the club layout too.
Normally, Meet & Greets are held in cities where we're exhibiting at a train show. We've held dozens at local clubs and they're a lot of fun. We always enjoy connecting with fellow modelers in a casual environment. More than a year ago, we began talking about how to reach people in areas that do not have a national level or large regional train show. The discussion evolved into the creation of the ScaleTrains Road Trip.
In 2021, we acquired a truck and RV so we can travel everywhere and set-up anywhere for Meet & Greets. So far, we've visited over a dozen states and plan to visit all 50.
So far, we've visited over 50 model railroad clubs and plan to exhibit at regional train shows; attend special events at railroad museums; set-up at full-scale railroad festivals; host train-watching days at railfan hotspots; and more. We've also invited special guests and several partners (see below) to join us along the way.
Below, you'll see photos from some of the clubs we've visited as well as a list of places we've been. You can also stay connected by clicking on the "Industry Podcasts" tab to listen in as we share some of our favorite Road Trip memories from our previous trips. Additionally, our map of the USA shows where we've been and where we'll be going next.
We hope to see you on the road!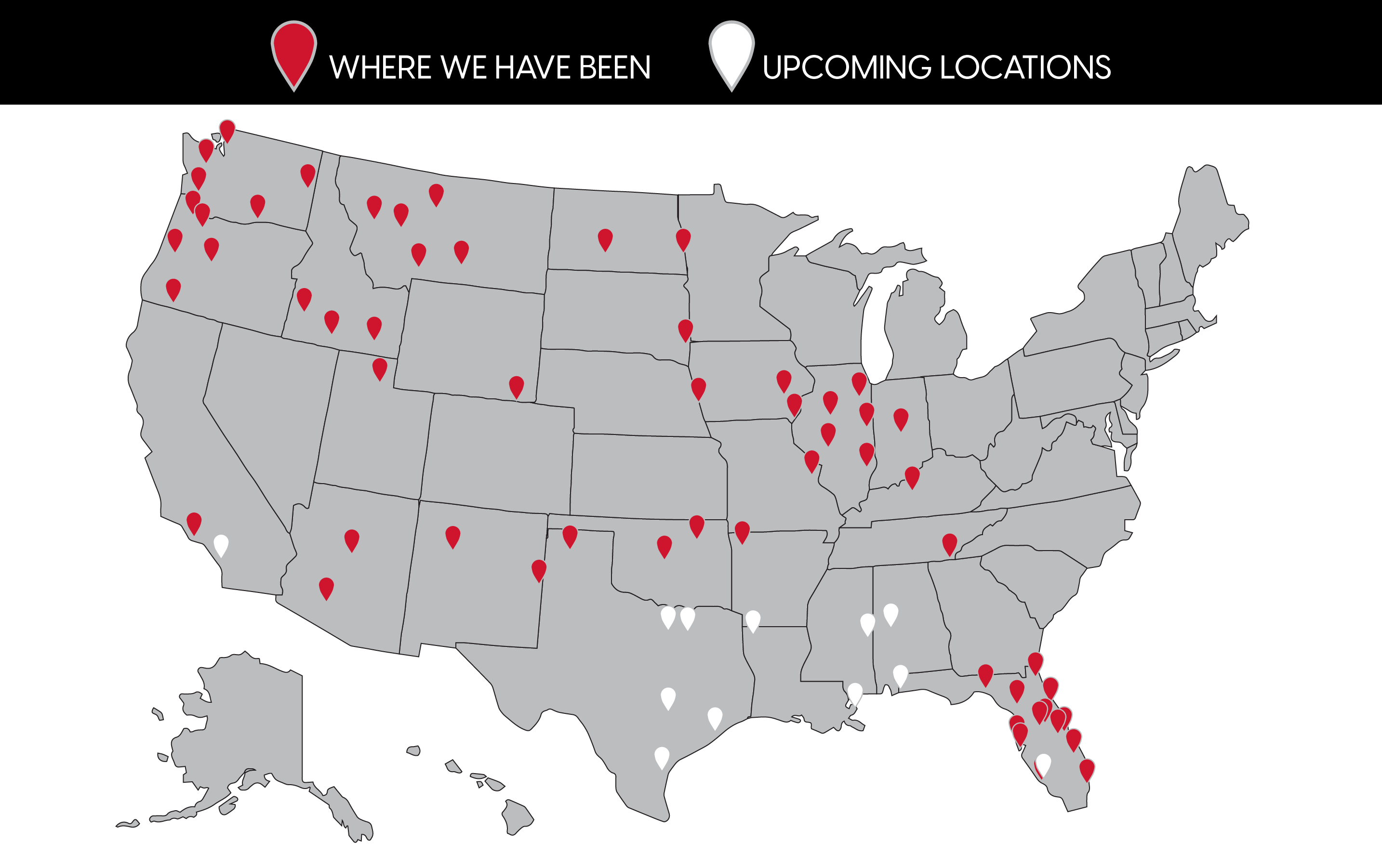 MONDAY, FEBRUARY 13, 2023 at 7:00pm
Pensacola Model Railroad Club
Ferry Pass Fire Department
2331 East Johnson Ave.
Pensacola, Florida
WEDNESDAY, FEBRUARY 15, 2023 at 7:00pm
Crescent City Model Railroaders
601 N Lester Ave
Metairie (New Orleans), Louisana
SATURDAY, FEBRUARY 18, 2023
Greater Houston Train Show
Sponsored by the San Jacinto Model Railroad Club
Pasadena Convention Center
7902 Fairmont Parkway
Pasadena, Texas
MONDAY, FEBRUARY 20, 2023 at 7:00pm
All Points North Model Railroad Association
611 S Magnolia Dr
Conroe (Houston), Texas
Space is limited, so please RSVP to John at johncbug@yahoo.com
WEDNESDAY, FEBRUARY 22, 2023 at 7:00pm
Gulf & Western
Woodsboro ISD Band Hall
Woodsboro, (Corpus Christi) Texas
FRIDAY, FEBRUARY 24, 2023 at 7:00pm
New Braunfels Historic Railroad and Modelers Society
TUESDAY, FEBRUARY 28, 2023 at 7:00pm
Austin Model Railway Society
SATURDAY, MARCH 4, 2023 - Time TBD
Texas Northern Model Railroad Club
MONDAY, MARCH 6, 2023 at 6:00pm
Texas Western Model Railroad Club
SATURDAY, MARCH 11, 2023 at 1:00pm
Space is limited, so please RSVP to David at djc148@comcast.net
SATURDAY, MARCH 13, 2023 at 1:00pm
Central Mississippi Model Railroad Association
Inside the Mississippi Agriculture and Forestry Museum
WEDNESDAY, MARCH 15, 2023 at 7:00pm
THURSDAY, MARCH 17, 2023 at 7:00pm
Black Warrior Model Railroad Club
*Due to unforeseen circumstances, dates, times, and locations are subject to change.
Danville Junction Chapter
Rossville, Illinois
St. Charles Model Railroad Club
St. Charles, Missouri
Crawford County Model Railroad Club
Oblong, Illinois
Springfield Model Railroad Club
Springfield, Illinois
K&I Model Railroad Club and Division 8
Louisville, Kentucky
River City Model Railroad Club
Pekin, Illinois
River and Rail Weekend
Ft. Madison, Iowa
Hawkeye Model Railroad Club
Coralville, Iowa
Will County Model Railroad Association
Joliet, Illinois
Naptown & White River Model Railroad Club
Indianapolis, Indiana
Tennessee Valley Railroad Museum
Chattanooga, Tennessee
Sugar Creek Model Railroad Society
Springdale, Arkansas
Green Country Model Railroad Club
Tulsa, Oklahoma
Oklahoma Model Railroad Association & Museum
Oklahoma City, Oklahoma
Amarillo Railroad Museum
Amarillo, Texas
Clovis Area Train Society (CATS)
Clovis, New Mexico
New Mexico Rail Runners
Albuquerque, New Mexico
Treasure Coast Model Railroad Club
Port St. Lucie, Florida

Orlando Society of Model Railroaders
Winter Park, Florida
Ocala Model Railroaders
Ocala, Florida
The Big Bend Model Railroad Association
Tallahassee, Florida
Flagstaff Model Railroad Club
Flagstaff, Arizona
Arizona Model Railroading Society
Glendale, Arizona
California Southern Model Railroad Club
Norwalk, California
Prototype Rails RPM
Cocoa Beach, Florida
First Coast Model Railway Society
Jacksonville, Florida
Flagler Model Railroad Club
Ormond Beach, Florida

Titusville Area Model Railroad Club
Titusville, Florida

Central Florida Railroader Modelers
Orlando, Florida

West Pasco Model Railroad Association
New Port Richey, Florida

Suncoast Model Railroad Club
Largo, Florida
Scale Rails of Southwest Florida
North Fort Myers, Florida
South Florida Railway Museum
Deerfield Beach, Florida
Sioux Valley Model Engineers Society
Sioux Falls, South Dakota
Spud Valley Model Railroad Club
West Fargo, North Dakota
Dakota Central & Western Model Railroad Club
Bismarck, North Dakota
Rimrock Model Railroaders
Billings, Montana
Livingston Model Railroad Club
Livingston, Montana
Pocatello Model Railroad Club
Pocatello, Idaho
Western Montana Railroad Historical Association
Helena, Montana
Montana Museum of Railroad History
Great Falls, Montana
Missoula Model Railroad Club
Missoula, Montana
River City Modelers
Spokane, Washington
Tri-City Model Railroaders
Kennewick, Washington
Whatcom Skagit Model Railroad Club
Bellingham, Washington
Puget Sound Model Railroad Engineers
Tacoma, Washington
Olympic Model Railroad Society
Lacey, Washington
Columbia Gorge Model Railroad Club
Portland, Oregon
Willamette Model Railroad Club
Clackamas, Oregon
Lane Society of Model Railroaders
Junction City, Oregon
Rogue Valley Model Railroad Club
Medford, Oregon
Eastern Cascades Model Railroad Club
Jerome, Oregon
Caldwell Model Railroad Club
Caldwell, Idaho
Old Boise Model Railroad Club
Jerome, Oregon
Northside Model Railroad Association
Jerome, Oregon

Magic ValleyModel Railroad Club
Ogden, Utah

Hostler Model Railroad Museum
Ogden, Utah
Sherman Hill Model Railroad Club
Cheyenne, Wyoming
Nebraska-Iowa Railroaders
Omaha, Nebraska
Orlando N Trak
Orlando, Florida
Citrus Model Roailroad Club
Orlando, Florida
Flagstaff Model Railroad Club
---
Oklahoma Model Railroad Association & Museum
South Florida Railway Museum
---
Arizona Model Railroading Society