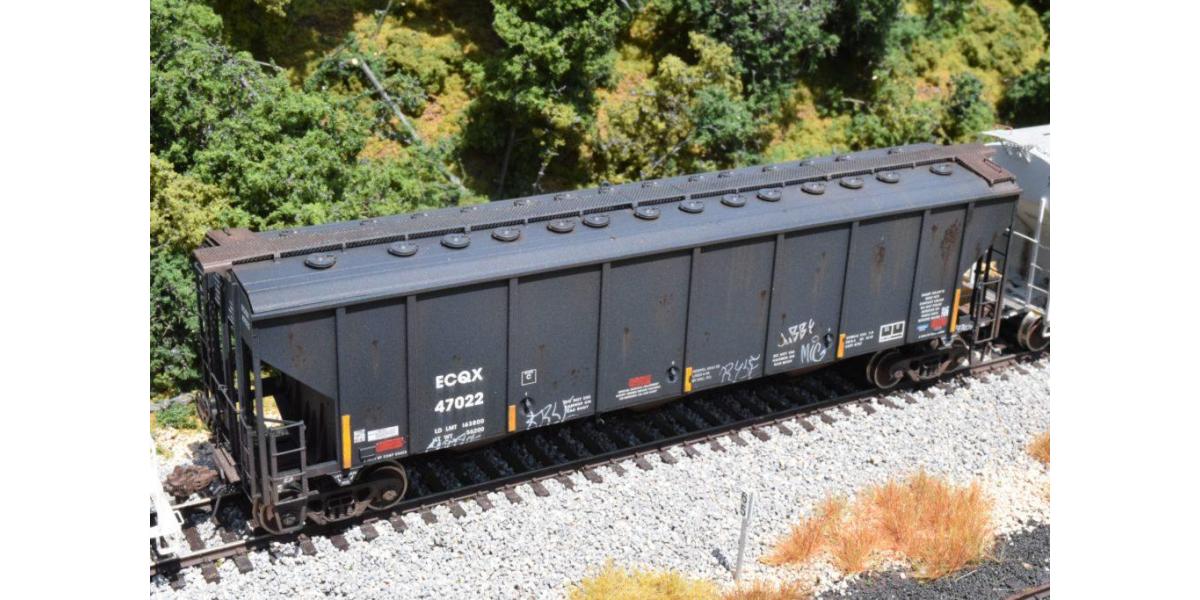 Time to Model: Custom Carbon Black Covered Hopper Cars
In this week's Time to Model highlights, we're featuring two modelers and their spectacular custom weathering work. Corey Stollar and Luis May recently shared some fantastic images with us of their custom Rivet Counter HO Carbon Black Covered Hopper Cars which have been weathered according to prototype photos.
But first, some background.
A byproduct of the petrochemical refining industry, carbon black is a fine, powdery substance with a consistency sometimes described as being akin to soot. Deep black in color, one of its major consumers is the automotive industry, where it's used as filler in tires, belts, and other rubber products. It also sees usage as a pigment in inks, paints, and plastic products, all of which make it a popular commodity with a variety of industries. Hauling it, however, can be a challenge thanks to its physical properties. Covered hoppers are typically used to handle carbon black, with designs dating back to the 1920s specifically for hauling it.
Reference: Carbon Black Cars: Freight Cars Journal Monograph #15 by Eric A. Neubauer, ISSN 0884-027X, 1990
Found throughout North America, these unique freight cars are commonly found in large groups near major carbon black producers or users. They can also be seen singularly or in small blocks of cars in mixed freight trains. Both prototypes, 4727s and 5750s, were painstakingly researched from field documentation, photographs, reference books, and builder drawings by our Product Development team.
ScaleTrains.com first released the Rivet Counter HO Scale cars in 2016 and became the first manufacturer to offer HO scale plastic models of contemporary Thrall 5750 cubic foot and 4727 cubic foot Carbon Black Covered Hoppers. In an archive video on our YouTube Channel, Mike Hopkin, Vice President of Product Development, described all of the exquisite details of these unique cars in-depth, showing several examples from the first run. The video can be viewed below.
In addition to Mike's overview of the first run, Ed Painter, a railroad historian and longtime model railroader, recently sat down with us to discuss his favorite memories of the Carbon Black Covered Hopper Cars that he remembers so fondly from his days of living in South Carolina in the early 1990s. You can watch the video below as well.
Now that you're more familiar with the cars, let's take a closer look at this week's Time to Model highlights.
First up is Corey Stollar, who added graffiti to his 4727 Carbon Black Car to match a car that he documented in real life. "I'm glad that ScaleTrains.com decided to make the Carbon Black Covered Hopper Cars. It was a huge void in the model railroading world that has never been done before," Stollar said.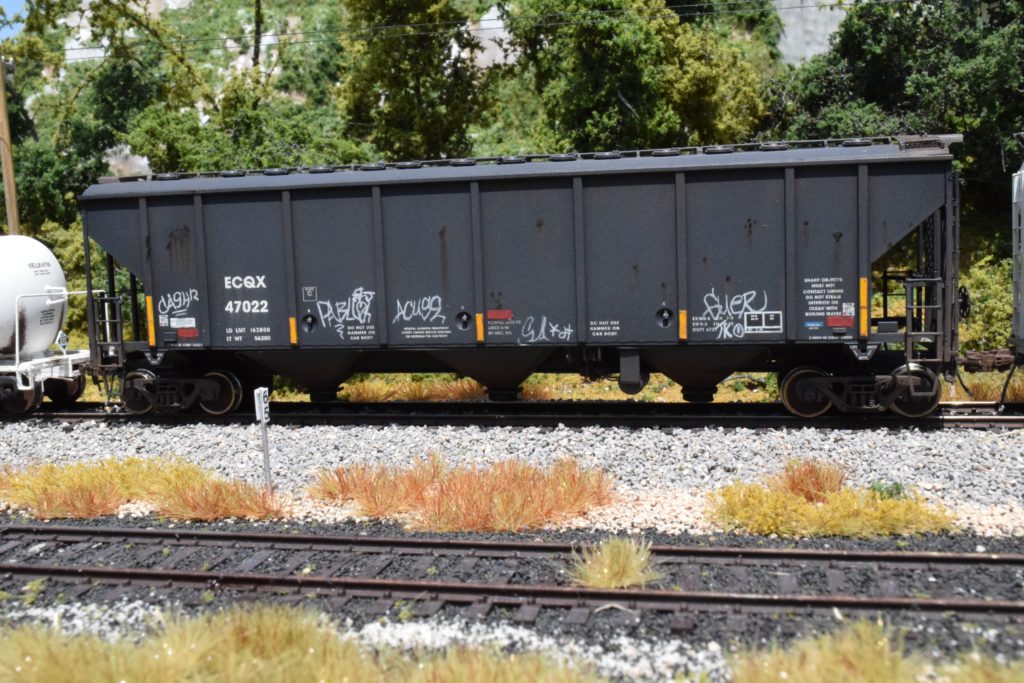 There is a facility that uses Carbon Black Hopper Cars about an hour from Stollar's home and seeing them in person inspired him to add these unique cars to his HO Scale layout.
"[At the facility], they would usually have eight or ten cars that would sit on a siding outside the plant. One day, I was lucky enough to photograph some of them stringed together and noticed that one of the cars included ECQX 47022, a roadnumber that ScaleTrains.com produced in the first run. I tried to make my model as close as possible to the prototype. I weathered the car using acrylics, oils, chalks, and finally powders to achieve the look you see in the pictures. This is an excellent offering by ScaleTrains.com and is extremely detailed out of the box. I look forward to more purchases in the future with ScaleTrains.com," said Stollar.
For those interested in more of Stollar's work, check out his Instagram account.
As a bonus feature this week, we're featuring Luis May's nicely weathered Sid Richardson 5750 Carbon Black Covered Hopper Car.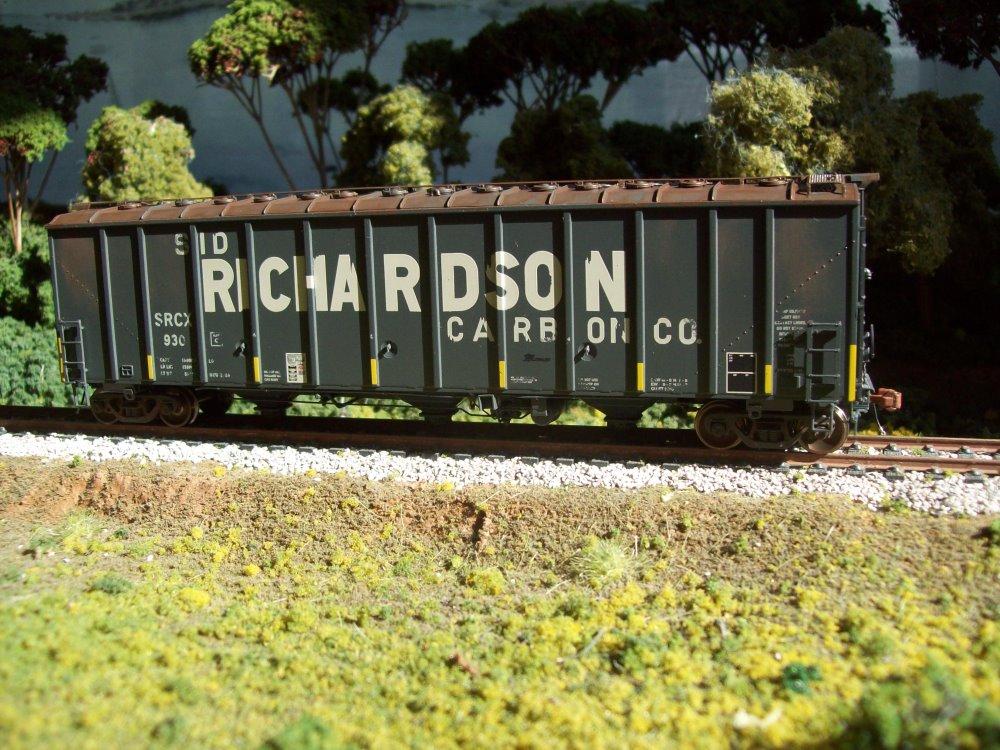 May said, "The only photo I found of SPCX 930 showed the car before the conspicuity striping was added. However, the photo did show what seemed to be a lot of rust on the roof, so that was what I added, using Vallejo rust wash, along with rust patches on the upper sides, done with Bragdon weathering powders."
For those interested in more of May's modeling efforts, visit his blog.
We really appreciate both modelers sharing their modeling projects with us for our latest Time to Model feature. These cars, with new road names that feature railroad, road number, and era-specific details, are now available through ScaleTrains.com and Select Retailers.