An Article by Steve Forrest
In the 1950s, under the direction of Frisco railroad president Clark Hungerford, two large modern hump yards were constructed. Tennessee Yard in rural Capleville, TN, just outside of Memphis, was completed in 1957. Cherokee Yard in Tulsa, OK was completed in 1960. Tennessee Yard was a "typical" hump yard with cars shoved uphill to the crest of the hump, where "pin pullers" uncoupled the cars just prior to their rolling down into the class yard tracks. Cherokee Yard was an unusual set up in which cuts of cars were on a downhill grade, held back by the hump engines. At the "foot" of the downgrade, the track went back uphill near the hump tower so that slack would roll in and the cars could be uncoupled prior to going over the crest and into the class yard tracks. This resulted in the last 40-45 cars of a cut being shoved uphill. Because of this, hump engines would have to go from holding a cut of cars back to shoving the last cars of the cut, thus transitioning from braking to power when working the hump.
For several years, typical hump power at Cherokee Yard was a pair of Fairbanks-Morse H10-44 or H12-44 locomotives. As cuts became longer and heavier, it became difficult for these pairs of locomotives to control the speed of the cuts and the need arose for more braking. This was accomplished by the construction of three "brake sleds" built from retired steam engine tenders which were coupled with the FMs to provide more braking power. At Tennessee Yard, the hump engines were pair of EMD SW9 switchers (as a side note, one set of hump power for a while was an SW9 and a cabless Alco S2. The S2's cab had been damaged in a collision and it was placed back in service without a cab).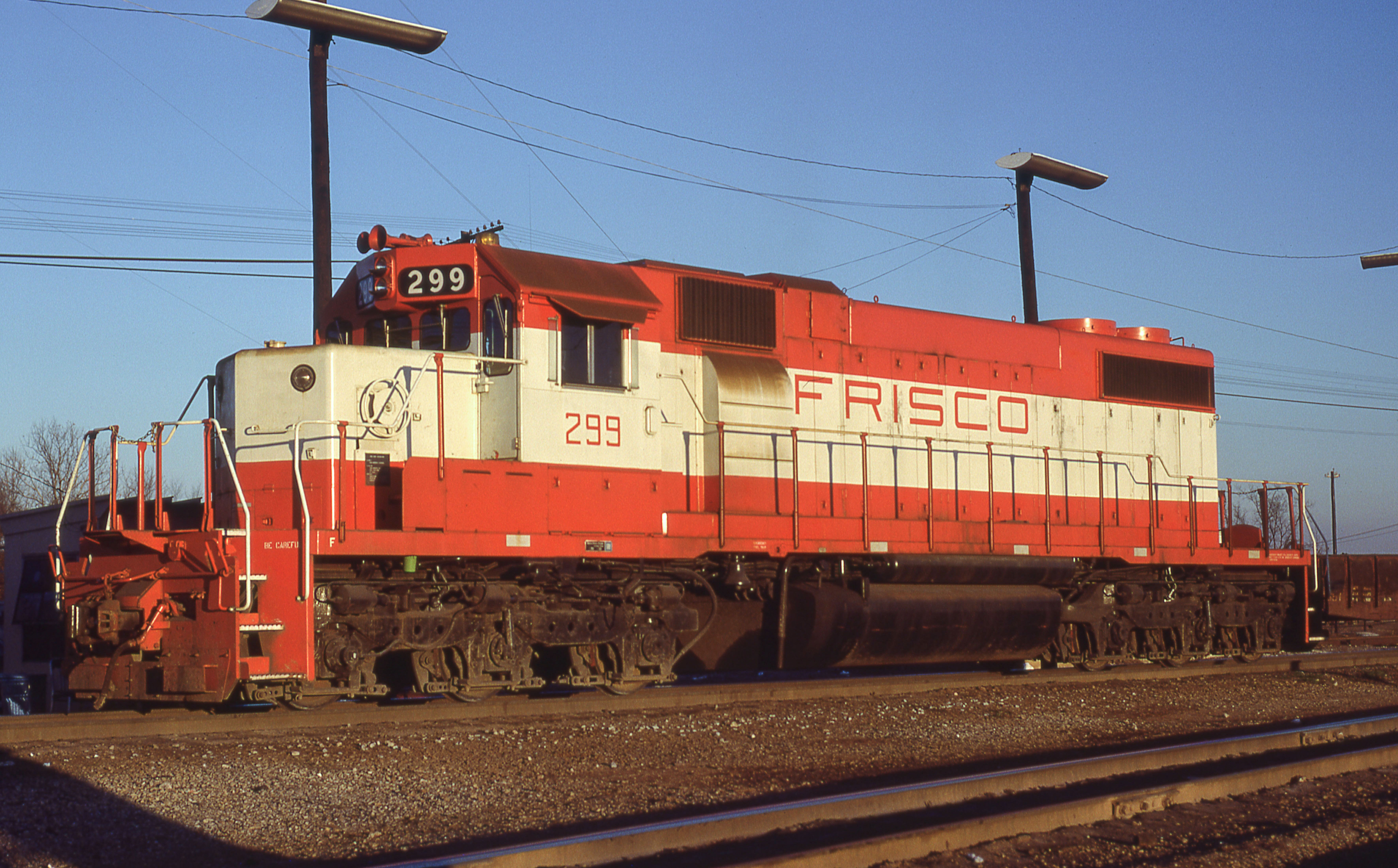 After Frisco started buying EMD's SW1500 switchers in 1968 and their numbers sufficiently increased, the F-M locomotives at Cherokee Yard and the SW9 locomotives at Tennessee Yard were displaced in favor of the SW1500s. These SW1500s worked fine for the next several years. However, the ever-increasing size of freight cars and tonnage of cuts being humped led Frisco to search for another source of motive power for these two hump yards. The answer was EMD's SD38-2.
Prior to Frisco's purchase, the SD38-2 had found success on both Class 1 and smaller railroads for hump service and low-speed tonnage trains where lugging ability was more important than speed. For instance, L&N employed the SD38-2 at its Boyles Yard in Birmingham, AL; SP used them at its huge Colton Yard in southern California, and C&NW purchased them for its Proviso Yard in Chicago. Frisco joined the list of SD38-2 owners in 1979 with two being assigned to Tennessee Yard and two being assigned to Cherokee Yard. Frisco 299 would end up being the last SD38-2 built by EMD.
Because of the operating differences at Tennessee Yard and Cherokee Yard, the two assigned to Memphis (#298 and 299) were not equipped with dynamic braking but the two assigned to Cherokee Yard (#296 and 297) were delivered with extended range dynamic braking. All four were built with 6 brake cylinders per truck for increased braking power (remember, cuts of cars being humped have had the air bled off and thus do not have working air brakes). Other differences included three chime Leslie RS3L airhorns instead of Frisco's usual 5 chime Leslie horns, and the lack of the single nose-mounted Gyralight. They were equipped with hump control, a method of controlling the speed of humping operations. In addition, each of the 16 cylinder SD38-2s replaced a pair of SW1500s totaling 24 cylinders, so fuel savings were another benefit.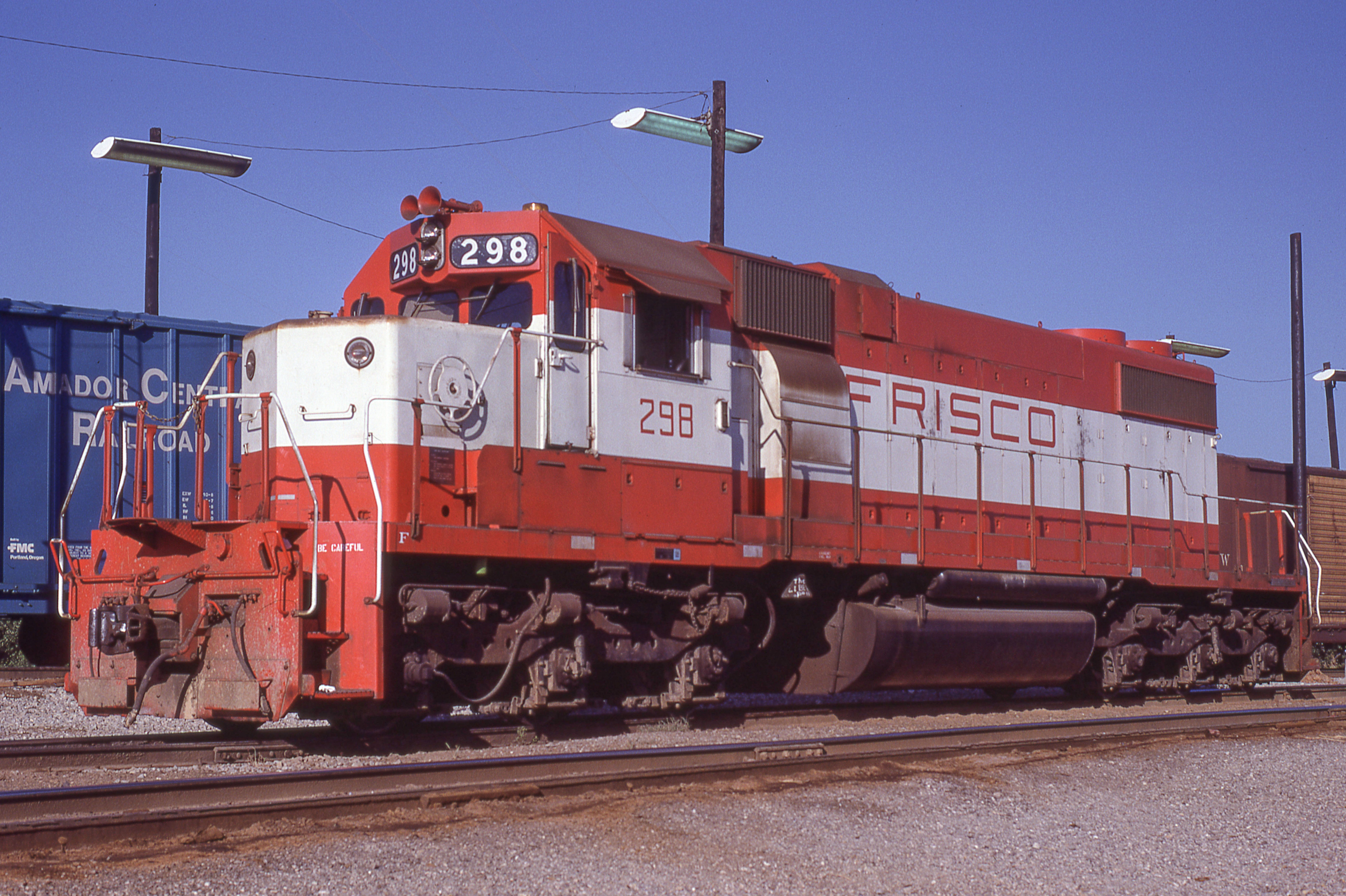 ---