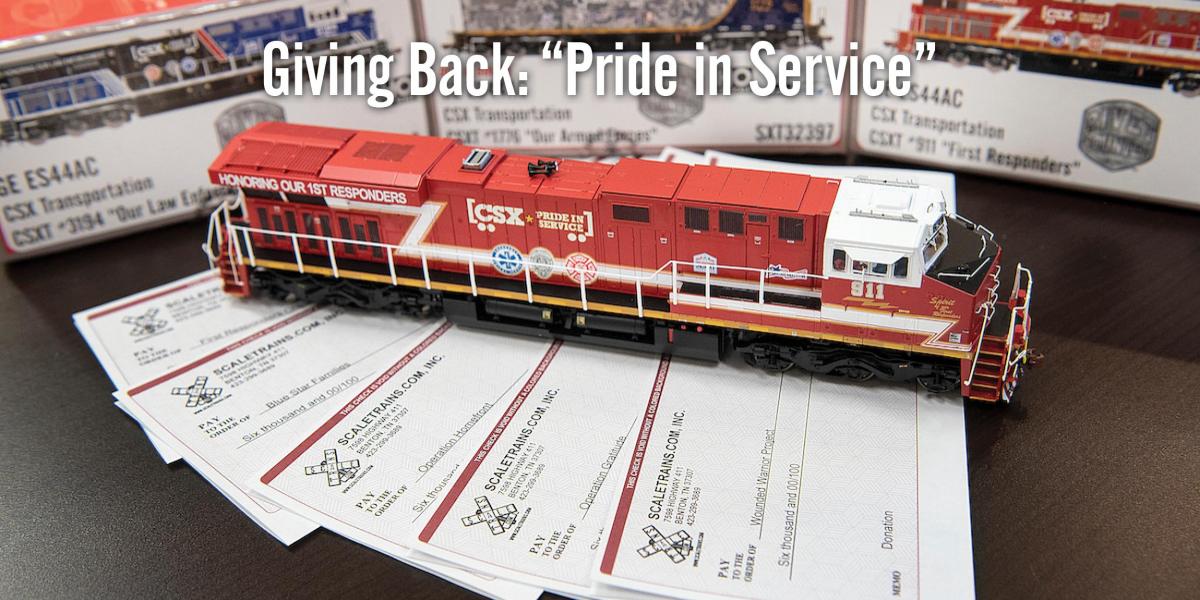 ScaleTrains.com Donates to CSX "Pride in Service" Signature Charity Partners
Benton, TN
ScaleTrains.com, a manufacturer of HO, N, and S Scale model trains, is proud to partner with CSX Transportation in supporting the Pride in Service program.
Announced in 2019, Pride in Service is one way that CSX recognizes the service of its employees who are United States military veterans and active-duty first responders in their local communities. To kick off the program, CSX dedicated three ES44 locomotives in special paint schemes to honor the Spirit of Law Enforcement, First Responders, and the United States Armed Forces.
ScaleTrains.com worked closely with CSX to offer highly detailed HO Scale models of each Pride in Service ES44 locomotive. To ensure that their officially licensed models were true to the real-world prototypes, CSX graphic designer Tyler Hardin and the CSX Huntington Locomotive Shop provided ScaleTrains.com with the original paint and lettering diagrams for the all three locomotives.
One of ScaleTrains.com's core values is giving back. Like CSX, the model train maker believes it's important to honor those who sacrifice for our country and our local communities on a daily basis. That's why they are donating a total of $30,000* of the proceeds from the sale of these unique locomotives to the following CSX Pride in Service partner organizations:
Blue Star Families
First Responders Children's Foundation
Operation Homefront
Operation Gratitude
Wounded Warrior Project
*$6,000 for each charity
These charities are deemed by CSX as the nation's leading veteran, military family, and first responder organizations — each of whom address a unique area of need within the service community. To learn more about what these incredible organizations do to give back to our heroes and/or make a donation, visit: bit.ly/CSXPrideinServicePartners
"We're thankful to everyone who purchased a Pride in Service model and their commitment to help us give back to these wonderful organizations who work hard to take care of our veterans, first responders, police officers, and their families," said Shane Wilson, President of ScaleTrains.com. "Working together with CSX to offer highly detailed, accurate models of these special ES44 GEVOs has been truly rewarding. We're grateful for the opportunity to support the Pride in Service program." Wilson added.
The Rivet Counter™ HO Scale Pride in Service ES44s are in stock now at ScaleTrains.com and the company's network of Select Retailers™.
For additional information or promotional materials, please contact Sales@ScaleTrains.com.
© 2021 ScaleTrains.com, Inc. ScaleTrains.com, Rivet Counter, Select Retailers plus their respective logos are trademarks of ScaleTrains.com, Inc. This product is officially licensed by CSX Corporation. CSX Transportation, Pride in Service, plus their respective logos are trademarks of CSX Corporation.