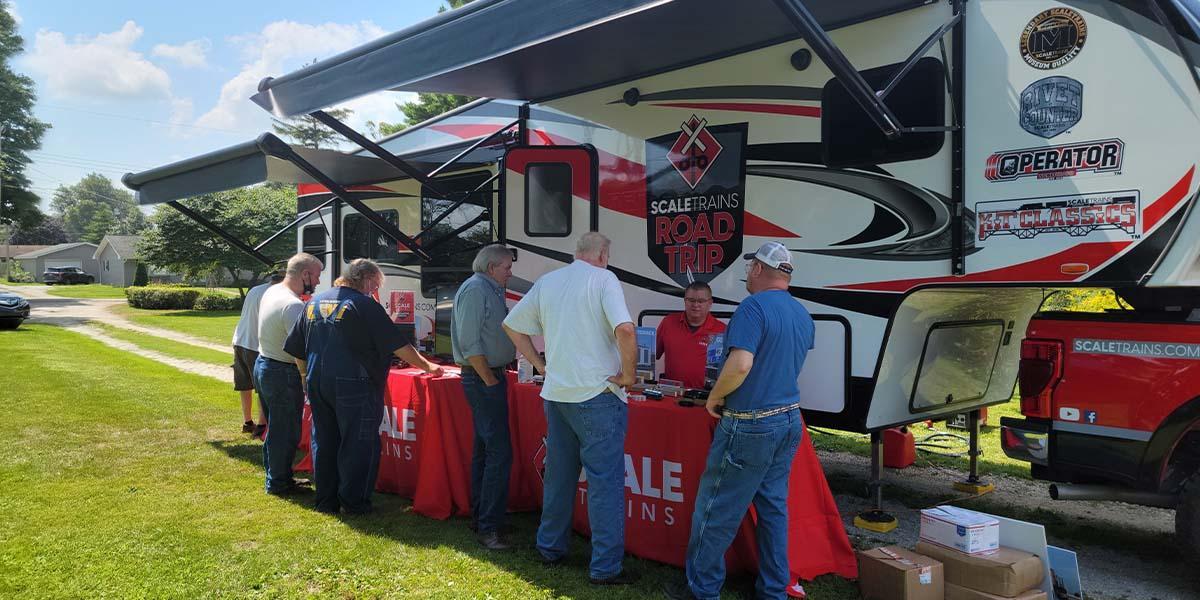 Road Trip 1 Wrap-Up
An Article by Shane Wilson
After more than a year of planning, preparation, and getting the truck and trailer stuck in the mud (that's a story for another day), Michelle, Bear, and I departed for our first Road Trip on Wednesday, August 25th.
We spent most of our first day on the road in central Kentucky. While driving on the interstate, we were greeted by a customer named Jeff who was driving the Stanley Security truck. Jeff was the first person to spot us on our travels and excitedly honked and waved as we passed by. We truly appreciated his enthusiasm, plus it was fun to be recognized.
Later that day, we stopped for dinner. Since we were just outside of Cincinnati, Ohio, I had to sample some local cuisine at Skyline Chili. Chris S. and his sons, Bodie and Hogan, spotted the truck and trailer so they stopped to learn more. They had never heard of us before and were curious about what exactly is ScaleTrains.
The boys inherited their grandpa's HO train set and the three had always wanted to set-up a "board" to run them. They said our visit gave them the nudge to finally get started. Thanks for taking time to visit with us and welcome to model railroading!
Saturday, August 28th
The two primary goals of the Road Trip are to (1) share our favorite hobby and (2) and help folks learn more about ScaleTrains. Prior to each event, we send press releases to local media including TV, radio, and newspapers.
The Commercial News in Danville, Illinois plus the Hoopeston Chronicle in Hoopeston, Illinois published articles about our first Meet & Greet at the Danville Junction Chapter in Rossville, Illinois.
Our first event was a homecoming for me. I was a member of the Danville Junction Chapter during my teenage years and visiting the depot brought back many great memories.
I truly believe the members of the club who mentored me after the passing of my father when I was 13 years old have had a tremendous positive impact on my life. "Thank you" does not begin to express how much I appreciate their selflessness and caring nature. Having longtime members Rick Schroeder, Bob Gallippi, and Doug Nipper attend the Meet & Greet made the day even more special.
The Danville Junction Chapter was formed in 1968. The museum is located inside a Chicago & Eastern Illinois Railroad depot and contains a treasure trove of railroad antiques and historical artifacts. In fact, the crossing flashers in front of our headquarters came from the attic of the depot.
In the baggage room is a large HO Scale layout. Since I was a teenager in the 1980s, the railroad has been converted from DC to DCC which makes operating much easier.
The club allowed our nephew (Reid) and niece (Holly) to run a train with a pair of our SD45s and several PS-4785 Covered Hoppers. They were so excited and mesmerized watching the train wind its way through the yard, towns, tunnels, and more. Walking around the railroad and sharing memories and time with them was truly special and one of the highlights of the trip for me.
For more information about the Danville Junction Chapter, NRHS, visit their website www.danvillejct.org.
Monday, August 30th
Since we acquired the MTH HO scale Big Boy steam locomotive tooling, we decided to capture some prototype photos and video for our future marketing efforts. I'll admit, Bear wanted to see the Big Boy in action too (OK, maybe that was me). Along with thousands of other people, we traveled to the St. Louis area for the Union Pacific Big Boy 2021 tour.
Driving along historic Route 66 is like stepping back in time. Since the Big Boy is from a bygone era, we decided to make our first stop along this fabled highway at Jensen's Point Overlook in Pacific, Missouri. We were positioned high above the mainline and Meramec River for our first encounter with the largest operating steam locomotive in the world.
To Bear's relief, our second stop was at the South Pointe Dog Park in Washington, Missouri.
Next, we found a spot just before Hermann, Missouri where Highway 100 parallels the mainline. The Big Boy was delayed leaving Washington so we had plenty of time to visit with modelers who found us parked alongside the road.
Unfortunately, we did not have time to stop in Hermann for lunch. This quaint small town along the Missouri River is known for its German heritage. I'm sure there must be a restaurant that serves great schnitzel. Oh well, next time.
We continued to our final stop in Gasconade, Missouri along the Gasconade River where the UP crosses. For the first time, we could hear the Big Boy's steam whistle echo throughout the openness to the Missouri River and surrounding hills. This video is definitely worth seeing and hearing.
Time was running short so we headed back to the RV to prepare for the Meet & Greet at the St. Charles Model Railroad Club.
Prior to our visit, the St. Louis Post-Dispatch posted an article about the Meet & Greet.
The club is located in Fort Zumwalt Park in O'Fallon, Missouri. The HO model railroad's scenery is complete and features 700' of mainline from O'Fallon to Bentonville, Arkansas. Along the way are cities, industries, steam & diesel engine service facilities, the countryside, and much more. There are 12 distinct scenes that flow together.
The members definitely enjoy the camaraderie of being a part of the club. They laugh, joke, and enjoy sharing their passion for their favorite hobby. Meeting other people, learning new skills, and helping others are some of the greatest benefits of joining a club.
On Tuesday morning, we drove to Oblong, Illinois to meet Pastor Mike and the president of the Crawford County Model Railroad Club, Chuck, to set-up for an interview with WTHI TV from Terre Haute, Indiana.
WTHI ran the story during the 4:00 and 5:00 news and posted the interview online. One of the interesting things we noticed was how many people shared the video and tagged friends and family who they thought might be interested. Some even came to the Meet & Greet.
Prior to the Meet & Greet, we met Dave who initially invited us to the club and Chuck at Monical's Pizza. If you've ever had the pleasure of eating at Monical's in Central/Southern Illinois, you know how wonderful this unique thin crust pizza is. It's so good, we had Monical's Pizza three times during the trip. We're already looking forward to having Monical's again when we pass through Illinois later this month.
Since the Crawford County Model Railroad Club is a modular group and does not have a permanent home, the Oblong Wesleyan Church graciously allowed us to use their fellowship hall. For about a month during the winter, the club sets-up their modules at the church. They also exhibit at shows.
The members of the Crawford County Club are another tight-knit group. If you'd like to learn more about becoming a member, email us at RoadTrip@ScaleTrains.com and we'll be happy to connect you with the club.
Thursday, September 2nd
The final Meet & Greet for our first Road Trip was at the Springfield Model Railroad Club in Springfield, Illinois. The club is in the basement of the Washington Park Pavilion.
As we pulled-up to the building, my find flashed back to the 1980s. I exhibited at a train show in the same building when I operated a model railroad focused hobby store over 35 years ago. This first Road Trip was truly a trip down memory lane.
The club set-up a pop-up canopy in front of the pavilion for our display and presentation. Members and guests brought camp chairs and we enjoyed a pleasant Central Illinois evening.
Afterward, we toured the club (even Bear!). We were astounded and humbled by the amount of ScaleTrains equipment members had around the layout. There was an oil train, grain train, and autorack train with our locomotives leading. Nearly every industry had one of our freight cars on the siding. The club even placed signs behind each ScaleTrains model to help draw attention.
The club is in the process of adding nighttime operations. The first section is completed and it looks fantastic.
The Springfield Model Railroad Club is in the process of refreshing the railroad and updating scenes as well as adding overhead lighting. If you'd like to help or visit the club, check out their Facebook page here.
Over the holiday weekend, we reconnected with old friends in southern Illinois. Afterward, we documented a locomotive for a future project and returned home from our 2,200-mile journey on Wednesday, September 8th.
We'd like to thank everyone who helped host Meet & Greets, visited with us, and waved as we passed by. Michelle, Bear, and I are already looking forward to our next Road Trip to the River & Rail Weekend in Fort Madison, Iowa the last weekend of September. Be sure to check out our Road Trip schedule. We'll see you on the road.
– Shane