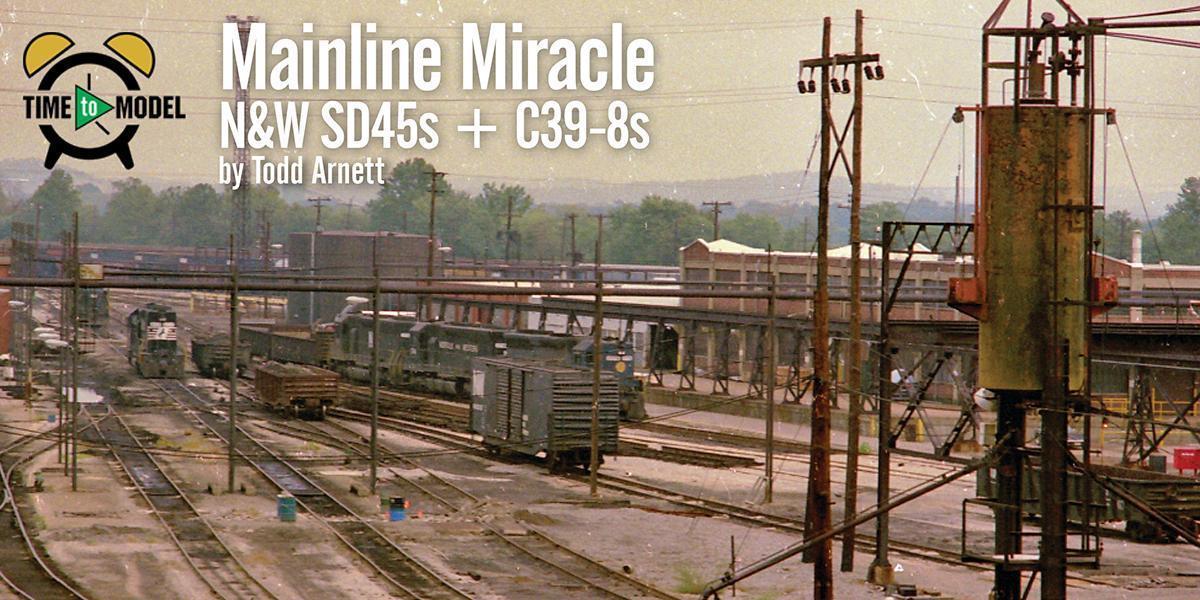 Mainline Miracle: Pevler Blue N&W SD45s + C39-8s
An Article by Todd Arnett
Whenever I hear the phrase "That would have never happened." I always perk up. It seems that soon after that phrase is uttered a photo or document surfaces to prove otherwise.
Would one reasonably think that an N&W SD-45, still in the Pevler blue scheme, could have been part of a consist with the most recent and technologically advanced locomotive of the time? Let us remember, the N&W began painting locomotives Pevler blue in 1966, just two years after the acquisition of the Wabash Railroad, up until 1971.
In 1985 I was 14 years old and spent my spare time at the N&W/NS yard in Portsmouth, Ohio. On the true north side of the yard was a footbridge that spanned over the thoroughfare tracks and the hump. This bridge would allow employees to make their way to the car and wheel shops without having to park within the yard proper. Advised by an employee at the time, one could go up on the bridge and look all they want, just don't go down into the yard.

The view from the footbridge offered a great view of the "service building" which was once known as a "Lubritorium" back in the steam era days of the N&W. I was a very novice photographer at the time and basically pointed my camera at anything and clicked. 25 years later I was rummaging through old photographs and something caught my eye. I had actually captured a Pevler blue SD-45 sitting outside on the south side of the service building. The next image shows a lone NS C39-8 on the north side of the service building. Hence, one could conclude that an NS C39-8 and an N&W SD-45 in the Pevler blue scheme in a consist was possible.
The N&W SD-45s were approaching their final years of service in 1985 and I believe that by 1992 the NS roster was completely void of all original N&W SD-45s. The C39-8s have suffered the same fate as they were off of the NS roster by 2009 . It is interesting to note that the SD-45 and C39-8 are synonymous with their brute appearance while running long hood forward. A consist of this type is conceivable if you model N&W/NS between 1984 and 1992.
Happy modeling!