Mark McAllister's Southern SD45 Memories
An Article by Mark McAllister
Photos by Scott Coffey
During the mid to late 1970s, I lived near Southern Railway's Rathole division near milepost 326, Hixson, Tennessee. My friends and I spent many hours there and all along the Rathole from here, north to Oakdale, Tennessee, and beyond. In those days, the run was short. The crews boarded in Chattanooga's DeButts yard (
Chattanooga
Terminal m.p. 336) and traveled 85 miles north to the small railroad town Oakdale, Tennessee where they'd turn. Oakdale is just north of Emory Gap and Harriman, Tennessee at m.p. 251.
In the 1970s as it is today, this 336 mile stretch of railroad is one of the busiest on the system. Trains were easy to find for us as railfans then as almost every double track section had a train in waiting for one traveling in the opposite direction on the single-track portions. The motive power fleet then was a vast array of mostly second, and some first, generation EMD power that was both four and six-axle units.
The mid-1960s saw Southern adopt a policy of high tonnage trains with the highest horsepower locomotives available. This policy resulted in Southern taking delivery of the first GE power since 1960 that was the 3000 h.p. U30C arriving in 1967. That same year, fifty-five of EMDs 3600 h.p. SD45s would also arrive in shiny "Tuxedo" paint with gold lettering. The new EMDs would lead Southern's priority trains and it would be the SD45 that won the favor of Southern with them rostering a total of 70 units. These units carried road numbers 3100 – 3169.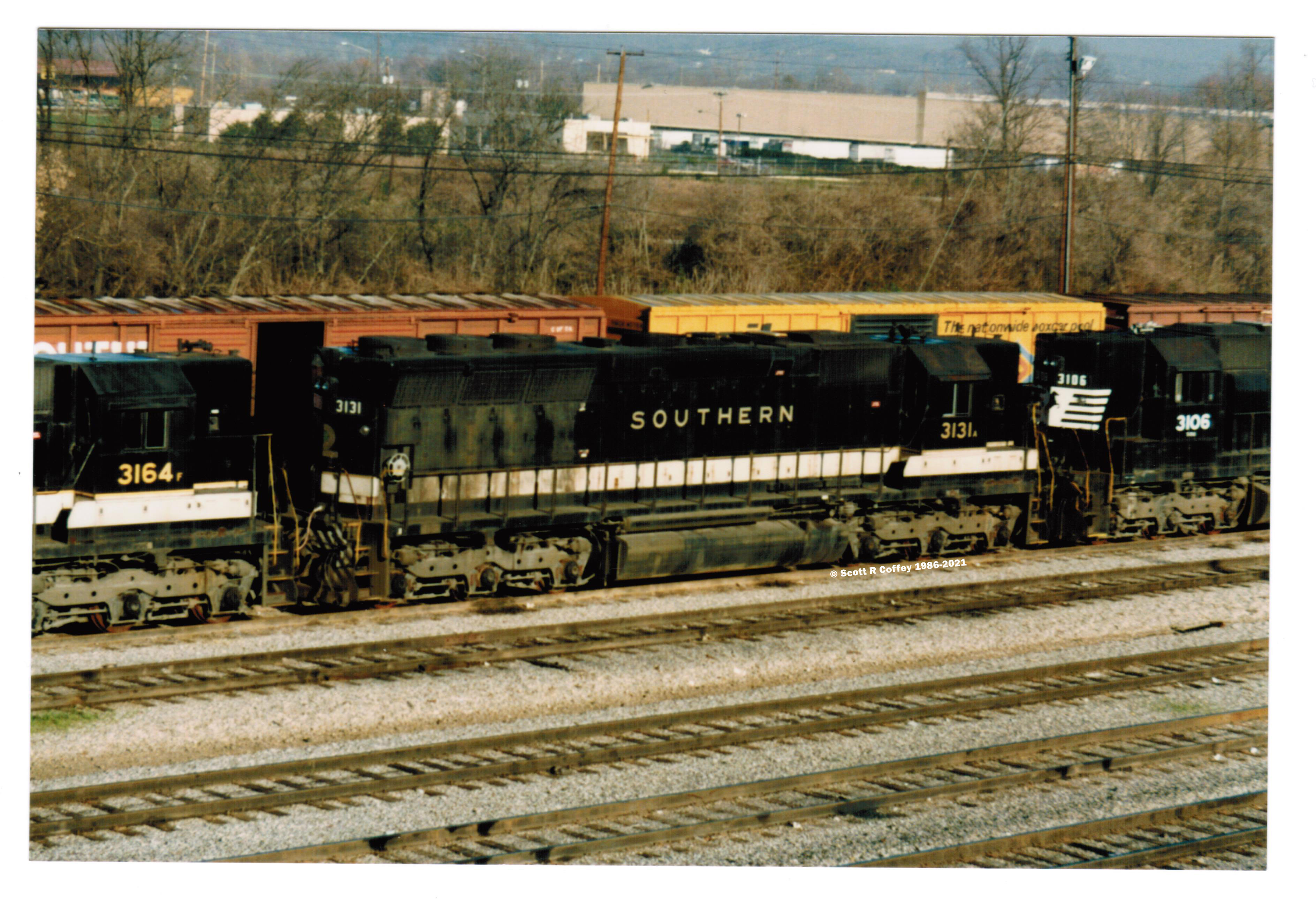 As a young railfan, we would see these power locomotives thundering down the Rathole with the Southern's 229 (intermodal train), the "Spark Plug", an all auto parts train from Detroit to Atlanta, and the "Georgia Clipper", a high priority manifest freight from the north to the deep south. We were also fortunate as the shops in Chattanooga were the maintenance base for the big EMDs. With friends that were railroad management, we were allowed an occasional visit to the fuel rack where we'd see these locomotives. With the big 20-cylinder EMD 645 diesel engine, they made a distinctively different sound as they idled away and certainly, as they thundered by with heavy freight in tow. All but a few that had been wrecked and scrapped were transferred to Norfolk Southern in the merger of 1982. Many of the units remained in service until retired by NS in 1987 after which, they were sold into leasing or other railroad services.
For me, my modeling focus is the Southern between 1965 and 1974. I chose this era for a couple of reasons. The first one is variety. Southern was an innovator and not afraid to try new things and solve unique situations and they were expanding. During this time, Southern was still using most of its first-generation power while at the same time adding new second-generation power from EMD and GE. The expansion saw them absorb regional railroads like the Central of Georgia (1963), the Tennessee, Alabama, and Georgia (1970), and the original Norfolk Southern (1974) plus several smaller roads. This brought a plethora of one-off models that Southern either had no others or was different from the same model Southern rostered.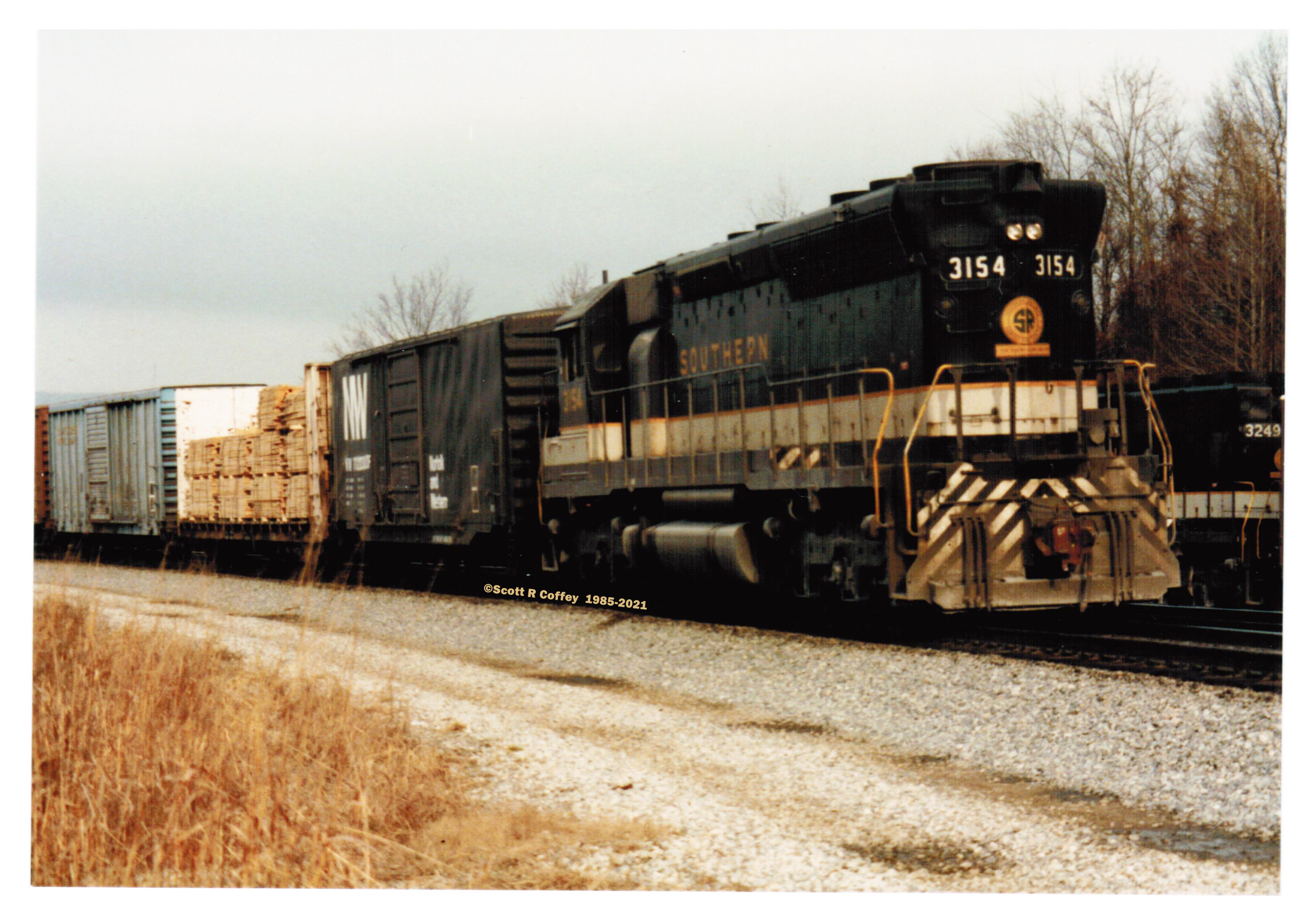 During this time period, the EMD SD45 was "King of the Hill" in terms of brute force and pulling power. They were seen in the lead of every priority freight train on the system from New Orleans to Washington, Cincinnati to Jacksonville, and over Saluda….the steepest mainline grade east of the Mississippi River. Units 3105-3121 were fitted with radio transmitters to control mid-train helpers. Locotrol was a relatively new technology that the innovator Southern Railway adopted early in the 1960s.
All of this makes the SD45 a critical model for me and anyone modeling 1967 or later on the Southern. My choice was the units that were models "as-delivered" with gold lettering and no nose herald but we are also offering three road numbers in the mid/late 1970s repaints that feature Scotchlite yellow color lettering, striping, and matching nose herald. Twenty-one other railroads rostered these brutes including Southern Pacific who had 317 units in all. The SD45 was nicknamed "Hustle Muscle" for their pulling force at speed and they truly were just that.